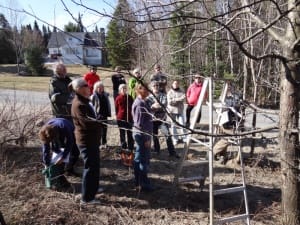 Manon Laroche, agronomist and apple production consultant, is offering a clinic to those wanting to perfect their knowledge of how to transplant a new variety of apple to existing wild apple trees. We will have grafts of varieties resistant to cold such as Lobo, Melba, Honey Crisp, Cortland, McIntoch and Primgold that will be distributed (in limited quantities) to participants. In addition, information will be given on how to maintain and protect organic apple trees.
When: May 26th, from 9:30 to 11:30 a.m.
Where: Meeting point at Town Hall at 1262, chemin de Mille-Isles. The workshop will take place outside so be sure to wear suitable clothes.
A reservation is required before May 24th with Mrs. Janick Roy at jroy@mille-Isles.ca or 450-438-2958 ext. 2610.