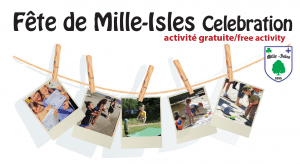 Saturday August 11th, 11:30 a.m. to 4:00 p.m. / In case of heavy rain, postponed to August 12th
Come enjoy the Mille-Isles Celebration being held at the Tamaracouta Scout Reserve located at 499, chemin Tamaracouta.
Lunch : corn, hotdogs and more
Sand sculpture contest (bring your buckets and shovels)
Face painting and glitter tattoos
Inflatable game
Mini games for everyone (surprises and prizes await you!)
Door prizes, music and atmosphere
Beach activities (bring your bathing suit and towel)
Climbing
Firefighters' game
Organization booths
Artisan booths (items for sale)
Exhibition of the mural "Ensemble c'est tout!"
New!
Archery demonstration
Archery for all
Public artist (music and balloon sculpture)
Zorb ball
Book sale
Mexican music son jarocho played by "Las Mechas"
We are looking for volunteers to help make this day a success. To volunteer or to reserve your artisan booth showcasing your products or services, please contact Mrs. Janick Roy at jroy@mille-isles.ca or 450 438-2958 ext. 2610.
While you are at the Mille-Isles Celebration, please take the time to come over and meet the urban planing and environment department staff. A lot of information will be available at our booth where we will be giving out perennials and prizes. You will also have the possibility to drop off your water bottles for your annual water analysis at a reduced cost. Come to the municipal offices to get the required bottle between July 30th and August 10th. You must bring us the water, your completed form and the exact change to pay for the analysis at Mille-Isles Celebration.

Bring the perennials that abound on your land and exchange them for other perennials to diversify your landscaping. Call us to register and we will contact you to confirm what plants you will bring to the Mille-Isles celebration and what plants you will receive.
Please contact André-Ann LaRocque by phone at 450 438-2958, ext. 2602 or by email alarocque@mille-isles.ca
Our partners and generous sponsors:

Confirmed Booths:
Environment booth
Conseil régional de l'environnement des Laurentides
Sûreté du Québec
Caisse Desjardins
Les abeilles de la colline
Café Partage
Centre pour l'immigration en région
Maison de la famille
Miel'O'Max
Beverley Lummis' creations
Book sale
CréationAndes
Centre d'action bénévole d'Argenteuil